Turku Energia in brief
Turku Energia has been illuminating and heating homes, factories and offices on the banks of the Aura River for more than a hundred years, since 1898. Over the years, we have actively participated in the life of the region. We want to continue to be a part of Turku and everyday life in the Turku region.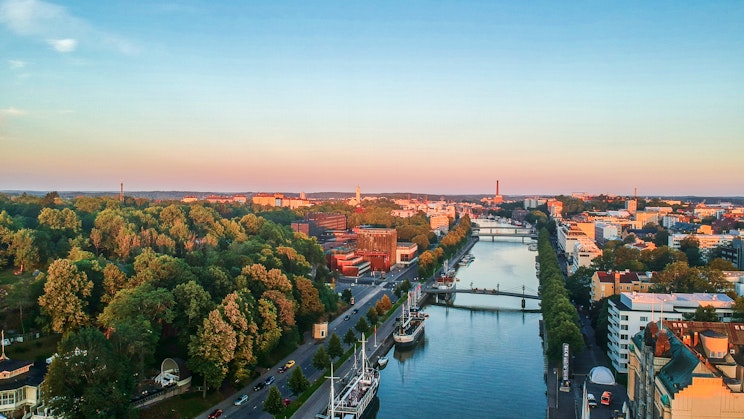 We are nearby, but see far ahead.
Turku Energia is the leading energy company in Southwest Finland and one of Finland's largest companies in the field. We are committed to developing the energy sector and being a pioneer in the field. We offer our customers energy services that improve the environment, quality of life and competitiveness.
Our energy services include sales of electricity and distribution of electricity, as well as district heating, cooling and steam, as well as network contracting and maintenance services for electricity networks, outdoor lighting and traffic lights.
Of the Group's subsidiaries, Turku Energia Sähköverkot Oy builds, maintains and operates its own electricity network in the Turku area. Turku Seudun Kaukolämpö Oy transfers district heat from production plants to distribution points.
The parent company of the Turku Energia Group is Oy Turku Energia – Åbo Energi Ab, which is owned by the City of Turku. The Turku Energia Group is organized on a business basis.
Our offices are located on Teollisuuskatu in Turku and at the Naantali power plant in Naantali.
Turku Energia's strategy
In our strategy, we have put customers and their energy well-being at the center. In keeping with our customer promise, we are nearby, but see far ahead. In line with our strategy, our main mission is to be a reliable partner in all of our customers' energy solutions.
We are a reliable and responsible partner and offer our customers the best energy solution for them. We invest in sales, new services and providing comprehensive energy solutions to our customers.