Make an environmentally friendly Louna Vehreä electricity contract
The ecological Louna Vehreä is the right choice for environmentally conscious customers. Louna Vehreä follows the Nordic wholesale market price. Your electricity is always priced right and occasional price spikes do not appear on your electricity bill.
In addition to a clean energy conscience, you get dozens of versatile customer benefits!
In the area of Turku Energia Sähköverkot Oy's distribution network, the Louna Vehreä electricity contract is our electricity product that is subject to delivery.
Choose a measurement method14.95 c/kWhBasic fee: €3.98/mthsPrice vat: 24%The contract is valid indefinitely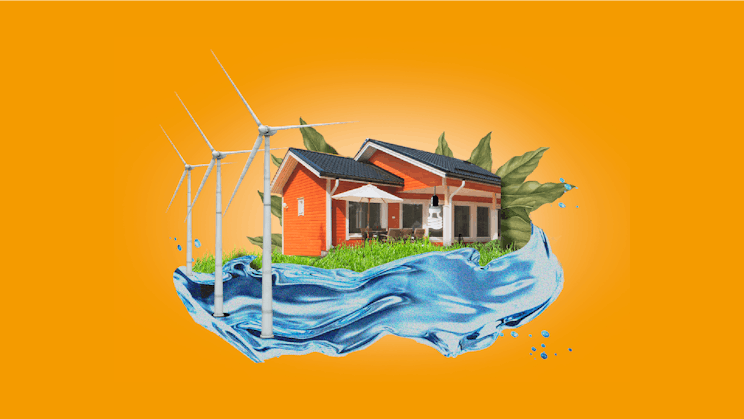 Climate-friendly electricity contract
Louna Vehreä -electricity contract is easy to make
Contact us in the chat at the right side of turkuenergia.fi, open Mon–Fri 8.00–18.00. Our customer service will make a contract for you.
Or call our customer service: 02 262 8111
You are also welcome to make the contract in our online service, which is open 24/7, but unfortunately the service is only in Finnish.
Our new electricity contracts are often offered only as general electricity priced contracts. You can choose this contract type even if you previously had a night tariff based contract. In this case, when making a new contract in EnergiaOnline service, please select general electricity as the metering method.
If you need the contract to take effect on the same day, contact our customer service directly.
Prices starting from October 1, 2023
Prices significantly decrease towards the winter season. From October 1, 2023, the monthly price of the Louna Helppo XS contract decreases by approximately 25%, the Louna Helppo S contract by about 22%, and the Louna Helppo M contract by around 23% compared to the prices on April 1, 2023. During the pricing period, the prices of fuels used in electricity production, such as natural gas and coal, experienced a slight decline due to weaker economic prospects and a mild European winter season. European natural gas storages have been replenished from a fairly good starting position for the upcoming winter season. The beginning of the summer in the Nordic countries was rather high-pressure dominated and dry. Over the summer, the weather pattern changed and has been predominantly low-pressure for a longer period, at times windy, which significantly lowered spot and derivative price levels. The commencement of commercial operation of the Olkiluoto 3 nuclear power plant in Finland has notably improved Finland's energy self-sufficiency, consequently leading to a moderation in Finland's area price and derivative price development.
Ilmastoystävällistä sähköä
Sopimuksen sähkö on 100 % uusiutuvaa energiaa. Se tuotetaan ympäristöystävällisesti tuulienergialla, vesivoimalla sekä biomassalla. Valitsemalla Tuulitakuu-palvelun saat sähkösi 100 % tuulienergiana.
Sopimus päättyy määräajan umpeuduttua. Jos asiakas ei ole tehnyt uutta määräaikaista sopimusta, turvaamme asiakkaan sähkön toimituksen uudella toistaiseksi voimassa olevalla sopimuksella, joka perustuu kulloinkin voimassa olevaan toimitusvelvolliseen sähkönmyyntituotteeseen.
Kulutusmäärä max. 60 000 kWh
Kuluttaja-asiakkaan sähkösopimuksen vuosittainen energiamäärä voi olla enintään 60 000 kWh. Mikäli kuluttaja-asiakkaan vuosikulutus ylittää edellä mainitun määrän, sopimus vaihdetaan kulutusmäärää paremmin vastaavalle tuotteelle. Jos olet yritysasiakas, katso sähkösopimukset yrityksille.
Lisäpalvelut
Ekotakuu Extra, support for nature conservation
Your electricity is produced with 100% renewable energy. However, you can do some extra environmental work by subscribing to the Ekotakuu Extra service. The service collects funds for the Finnish Nature Heritage Foundation for protecting forests in Southwest Finland.
The price of the service is €0.50/month, which will be billed on your electricity bill. You can opt for the service when making an electricity contract or by contacting our customer service. The Ekotakuu Extra service is valid until further notice and follows the validity of the electricity contract.
With the Tuulitakuu service, you ensure that your electricity is clean wind power. Through the service, the energy of your electricity contract is produced 100% by wind power.
The price of the service is €0.50/month, which will be billed on your electricity bill. You can opt for the service when making an electricity contract or by contacting our customer service.
As our customer you receive loyalty benefits and discounts
Eturinki is Turku Energy's customer loyalty program, through which you gain valuable benefits from dozens of businesses and online stores. You automatically get to take advantage of diverse benefits when you're a consumer customer of electricity or heat. You can redeem the benefits in stores by presenting either your electronic or paper discount card.